BUCKLOS YN1500 700C Carbon Fiber Road Bike Wheelset Rim Brake 50MM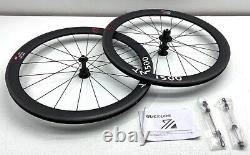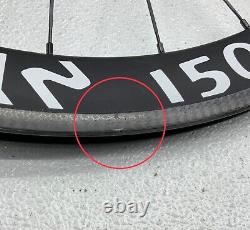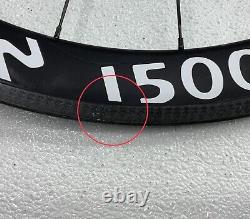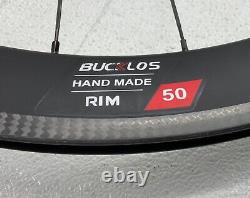 BUCKLOS YN1500 700C Carbon Fiber Road Bike Wheelset Rim Brake 50MM. Rim Material : BUCKLOS YN1500 series 700c wheel is made of carbon fiber - Toray T700, which is lightweight but the strength is very strong(38mm-1500g, 50mm-1545g). The good absorption performance can slow down the impact from the road surface and reduce your fatigue, 3k matte rim finish increasing braking power by 35% in all conditions.
Spoke: Front 20H rear 24H Pillar 1423 spokes, 2:1 spokes improves wheel stability and stiffness by and stiffness by a massive 35%, we use a high speed CNC machine to drill all the holes in our rims so they are uniform. The spoke and nipple access holes are drilled simultaneously to Prevent Yaw Issues. Hub:The Hub is made of aluminium with best strength(6 Pawls 3 Teeth 120 Clicks), Front 2 bearings/ Rear 4 bearings, Quick Release 9mm, Fit Shimano 10/11 speeds. Climbing & Aerodynamic Rim: 38mm/50mm depth rim compatible with 23c/25c/28c tubeless -ready / clincher tire, if you are more used for climbing, please choose a depth of 38mm.
If you consider more riding speed, please choose 50mm. UCI & SGS -BUCKLOS YN1500 carbon road wheels are UCI approved and passed EN Standard under SGS test, Our factory has its own inspection machine, each wheel goes through strict inspection test before sale.
Please Ask Any Additional Questions. Thank you for checking out our listing! We want you to have a 100% positive experience shopping at our store.
It's our pleasure working with you! Orders that are placed on a Friday will be fulfilled the following Monday or Tuesday. On most items, unless otherwise stated.

---