NEW Campagnolo BORA WTO 45 2-Way Fit Carbon Wheel Set Rim Brake DARK LABEL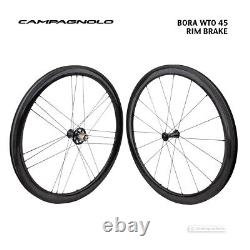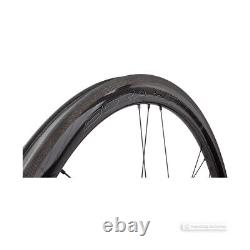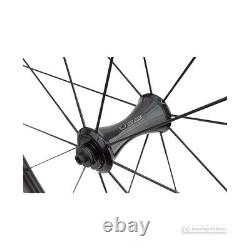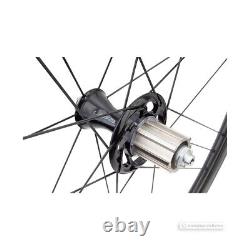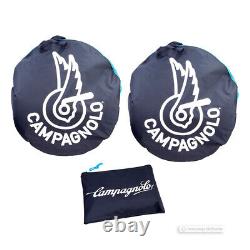 NEW Campagnolo BORA WTO 45 2-Way Fit Carbon Wheel Set : Rim Brake DARK LABEL. The latest advancement in Campagnolo's carbon wheel technology, the new Bora WTO 45 are the pinnacle of aerodynamic performance. WTO stands for Wind Tunnel Optimized and that's exactly what Campy did. Each part of these wheels has been through the ringer of wind tunnel testing, maximizing their aerodynamic performance. The streamlined design of the central part of the hub decreases the frontal area of the component whilst the special design of the flanges favours the shut-off of the flow of air, thus reducing turbulence. The elliptical aero cross section with 18 front spokes results in a far superior rolling resistance. The wheel structure reduces energy dissipation, which transfers every watt produced straight to the asphalt. Designed as the ideal middle-ground, the 45mm medium profile of the Bora WTO 45's features a rim design that enables the maximum amount of aerodynamic penetration when the wind angle is between 12° and 19°, making it an excellent choice for triathletes. Color: carbon w/dark label decals. Compatibility: Campy 9/10/11/12 speed body (Shimano 8/9/10 and SRAM 10 speed body also available).
Includes: carbon brake pads, 35mm tubeless valve, 35mm valve extender, 2 composite tire levers, quick release skewers, wheelbags, & manuals. NONSTOP CICLISMO is your source for top quality road cycling equipment. Since 1996 we've been providing a unique selection of hard to find cycling gear for those looking for the best that Europe has to offer. We stock everything from road and cyclocross bikes to cycling and lifestyle apparel, frames, components, wheelsets, accessories and many hard to find small parts.
Our top brands include Castelli, Campagnolo, Cinelli, Colnago, Deda Elementi, KASK, Nalini, Selle SMP, Sidi and Bianchi Milano just to name a few. Our goal is to provide our clients with the equipment, guidance, and friendly expert service to make the most of their cycling experience.
Do not pay for them individually. A copy of the original invoice must accompany your return.

---