Spec Crit Pro X Di2 Ultegra R8050 Road Bike Synchro Carbon wheels Canyon S M L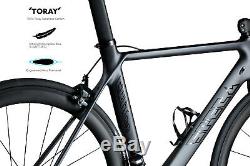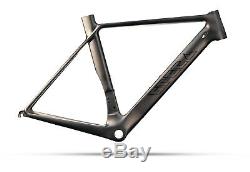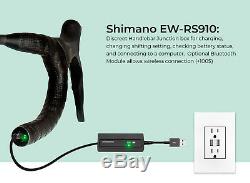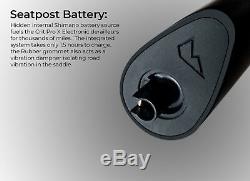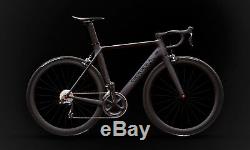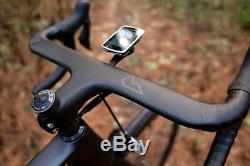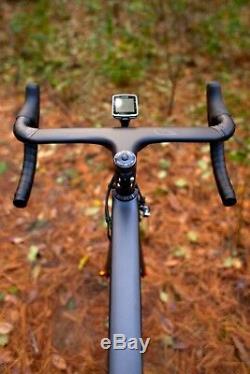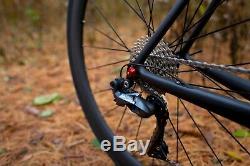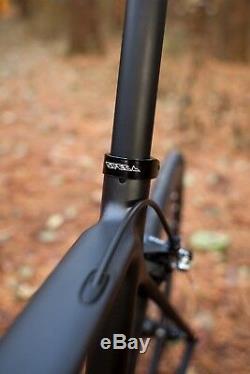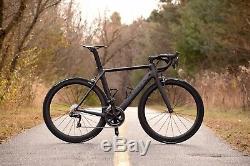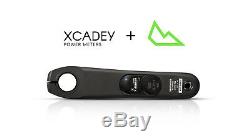 The Crit Pro X is our Flagship racing road bike for those who want speed with no compromise. With aggressive frame geometry, air slicing tube shapes, and aero integrated carbon cockpit and wheels, there are few marginal gains left to be unturned. Equipped with the all new Shimano Ultegra R8050 electronic groupset, with an integrated crank based power meterstandard, there's little else a serious cyclist needs. Full Carbon SP-11 aero frameset and integrated cockpit.
Shimano Ultegra R8050 electronic groupset. Optional FC-8000 Xcadey power meter crankset. C50 Wide deep section wheelset. 16.2 lbs (7.3 kg) weight (Medium).
Custom Isolated seat post mounted battery system. Optional Bluetooth Di2 connectivity through the etube app. Paint and assembly done in Crystal Lake, IL USA. Little to no adjustment is required.
Di2 bicycles will arrive with battery fully charged, and ready to ride. The Crit Pro X is equipped with fully electronic shifting utilizing the advanced Shimano R8050 Full Grouppo.
The Long Lasting battery charges in 1.5 hours or less, and last an incredible 1250+ miles to a charge. With Optional Bluetooth capability , your Crit Pro X can transmit battery status, gear selection, auto shifting notifications and more through your Favorite Garmin, Wahoo and other head units. Low Maintenance (no cables to wear) and fast precise shifting with low hand fatigue is the real value in upgrading to the R8050 group. We chose the durability, technology and weight of the new R8050 Shimano Di2 electronic grouppo. All Spec Di2 equipped bicycles are pre-programmed with the Shimano Synchroshift technology using the "e-tube project app".
This gives you numerous ways of tweaking electronic shift performance to suit your style of riding, from autoshifting the front chainrings, automatically compensating shifting in the rear cassette, and customizing what all 6 shift buttons can do (that's right, R8050 has extra shift buttons on the top of the brake hoods) We have also used the Dura Ace RS-921 Bar end junction box for a cleaner cockpit, and easy access to charging and shift mode changing. Ask about optional Bluetooth Di2 connectivity. It's All in the Power. We believe in the advantages of training, racing and even just having fun riding with a power meter. We therefore offer power meters.
As a factory option on all of our Spec models. Would you lift weights without numbers on the plates? Training with power gives that constant feedback of where your fitness is at, and when you've found those new limits you've been shooting for. No matter what your fitness level, a power meter can be an extremely useful pacing tool, allowing you to gauge efforts evenly to keep you out of the Red, and grabbing that Strava KOM, hitting a new threshold power level, or whatever cycling goal you've set for yourself.
More on the Power Meter. With ultralight packaging and integration into the FC-8000 crankset, this is the best value power meter on the market.
As an amateur or elite level rider, training and racing with a power meter is without a doubt the most important upgrade you can make. (We also sell these separately if you need one for another bike). The deep section C50 Full carbon wheel set is our favorite all-rounder with a balance of Ultra-lightweight and advanced wide wheel profile (26mm) aerodynamics. At 50mm deep with a U shaped profile, it's light yet still gives significant aero gains over a traditional climbing or box wheel.
We couple each set of C50's with the unmatched Continental GP4000S II tires. The tires are perfectly matched to the frontal aero profile of the wheelset, making this an air slicing combo. The Crit's advanced truncated tube shapes, slippery fork and seatpost sections, and a fully integrated aero cockpit give you an unmatched aero advantage. You will without a doubt feel the effects. Ask our fit specialist if you are unsure of frame sizing or fit. We stand behind the products we offer, and strive to make every customer extremely happy with the quality and value of the bicycles and parts we sell. We are always available to answer any questions you might have, and give technical advice on installation or operation. We focus on each Spec build one by one. No mass production, just attention to every little detail. If you want your favorite bar tape, no problem. You want your frameset personalized, painted a custom color with special graphics? 2018 Spec Crit Pro X. 2018 Trek Madone 9.5. 2018 Canyon Aeroad SLX 8.0.
2018 Giant Propel Advanced 0. 50mm (25mm wide) Carbon Aero (1650g).
35mm (25.5mm wide) Carbon Aero (1506g). 62mm (25mm wide) Carbon Aero (1635g).
30mm Alloy (23mm wide) (1720g). 55mm (23mm wide) Carbon Alloy Aero (1860g). Bontrager R3 Hard Case Lite. Continental GP Attack III/ GP Force III. 16.2 lbs (7.35kg).
16.41 lbs (7.45kg). 16.5 lbs (7.5kg). 16.64 lbs (7.55 kg). Use our charts below to get a feel for the size Crit you belong on.
If you are very familiar with your preferred bike size and geometry, you may not need to look further. We consult with every client when necessary to get them on the perfect frame size, and build their Spec to the geometry and fit that meets their needs. You'll be spending a lot of time perched upon this specimen of Carbon fiber and Electronic wizardry, so you may as well be comfortable! Frame Sizing by height and flexibility.
This is the nitty gritty, the details that bike nerds truly sweat over. This is a great way to compare against a bike that you know fits well, and gain insight into how aggressive of a position you can achieve looking at head-tube length etc. SPEC AERO (full carbon steerer). SHIMANO R8050 ULTEGRA DI2, 11S.
SHIMANO R8000 ULTEGRA DUAL PIVOT (CARBON & ALUMINUM RIM PADS INCLUDED). SHIMANO R8000 ULTEGRA, 11-30T, 11S (ASK FOR OPTIONS). SPEC C-50 wide profile carbon clincher. SP-24 (climbing wheel) and sp-80 wheelsets also available. SHIMANO ULTEGRA, 11S optional xcadey pwr. Cinelli PRemium cork Multiple color opt. SPECLITE CARBON (90G) (OTHER SADDLES AVAILABLE). S, M, L (XS, XL SPECIAL ORDER). /matte BLACK (Custom colors/team liveries available upon request).
16.2 POUNDS (SIZE M). CARBON BOTTLE CAGES (OPTIONAL) , CARBON ASSEMBLY PASTE, EXTRA POWER METER BATTERY, GARMIN MOUNT (OPTIONAL), bluetooth module (OPTIONAL). Subject to technical modification without notice.
Tools needed for assembly and adjustment: Torque Wrench with Hex inserts 3,4,5 (included in box) Air pump for tires (not included in box) Carbon assembly paste (included in box, carbon parts only). The item "Spec Crit Pro X Di2 Ultegra R8050 Road Bike Synchro Carbon wheels Canyon S M L" is in sale since Tuesday, December 11, 2018. This item is in the category "Sporting Goods\Cycling\Bicycles". The seller is "spec_bicycles" and is located in Crystal Lake, Illinois. This item can be shipped to United States.
Gender: Unisex Adult
Wheel Size: 700C
Model: Crit Pro X (Di2)
Country/Region of Manufacture: United States
Handlebar Type: Drop Bar
Number of Gears: 22
Type: Road Bike - Racing
Features: *Optional* Bluetooth Di2 connectivity
Color: Black Matte / Custom available
Frame Material: Carbon Fiber
Brand: Spec Bicycles
Brake Type: Caliper - Side Pull

---